Description
COMPLETE DECK KIT GARDEN 1.8M X 1.8M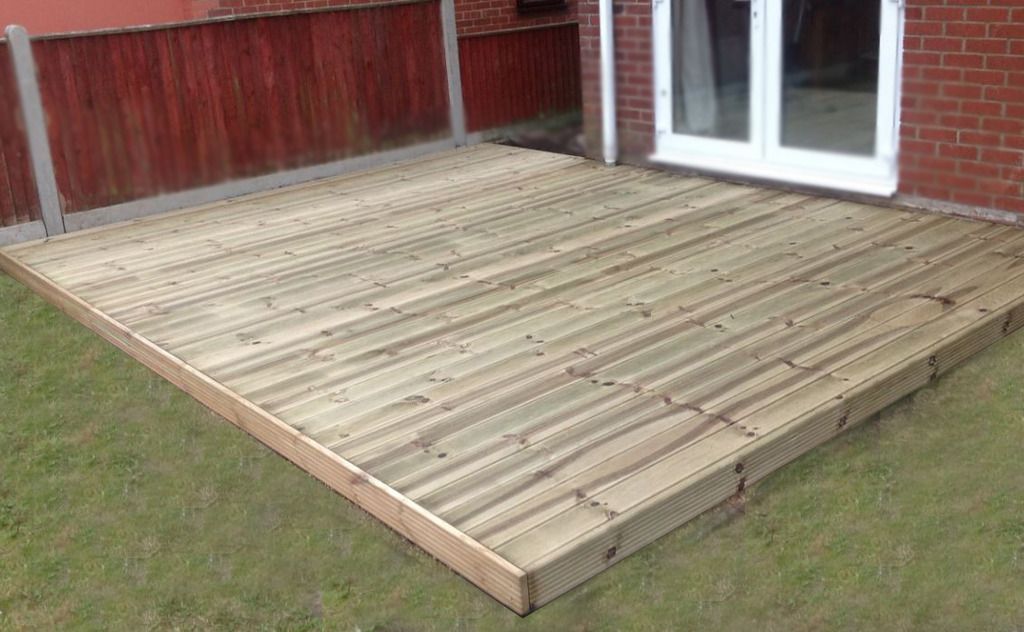 This is RoRo Timbers 1.8m x 1.8m Decking kit
Our Decking kit consists of decking boards & framing (all cut to length), deck screws & instructions . RoRo timber can make bespoke kit's to fit your size please contact for more details on rorouksales@gmail.com

The decking boards are planed and ribbed and have been pressure treated for increased life.
The framework is a nominal 100mm x 47mm pressure treated sawn timber. Also included are countersunk steel hardened and coated pozi drive screws to fix the deck boards down.
Easy to install, and complete with instructions we also supply the various deck panels, rails, newell posts and spindles to put the finishing touches to the job again please email rorouksales@gmail.com for quotes.
Please note that our suppliers vary. Our decking boards are always as standard ridged on one side, but the reverse may either be reeded or a smooth finish. Please contact to determine our current stock situation.
What will you receive in your kit?
18 x deck boards -@ 1.8m
5 x 47mm x 100mm @ 1.8m
Fixing Kit
Details
Various sizes
Bespoke service available on request. Please contact for more details.
All boards and framing cut to length and size, saving any need for the customer to cut the boards/framing.
Range of additional extras include: surround boards, Newell Posts, Spindles, Rails etc. Please contact for more details
Finished board size Ex 38mm x 125mm much larger better quality decking boards than many other sellers on-line.
100mm x 47mm Bearers, We can also supply 150mm x 47mm at a cost.
All boards and framing is Pressure treated to prevent long term decay and insect attack.
All the necessary Decking screws and framing provided.
PLEASE NOTE ANTI SLIP PLATES AND RAILINGS ALL AVAILABLE PLEASE EMAIL ROROUKSALES@GMAIL.COM TO GET A QUOTE
PLEASE NOTE: The nature of timber is that it may shrink, split and crack in hot weather as it gives up moisture into an atmosphere drier than itself, and may swell in wet weather, as it takes up moisture from an atmosphere wetter than itself. Please not RoRo Timber are not responsible for this as it is an inherent characteristic of wood; we give this information so you can make informed decisions about using wood.