Description
8 X 1.8M 100MM TREATED MACHINE CUT HALF ROUND WOOD
POST AND RAIL FENCING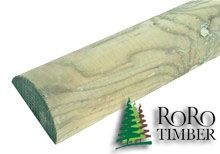 RoRo timber's machine rounded rails are suitable for either round or half round stakes, and also scalloped posts.
Our post and rail fencing is a must have for any garden/agriculture environment.
Made from strong pressure treated timber.
(Please note wooden stakes may show shrinkage cracks as they dry which will open and close with the weather. This is very normal with slow grown posts and does not affect the functionality of the post what so ever
.)
1800mm (6ft) in length AND 100MM in diameter.